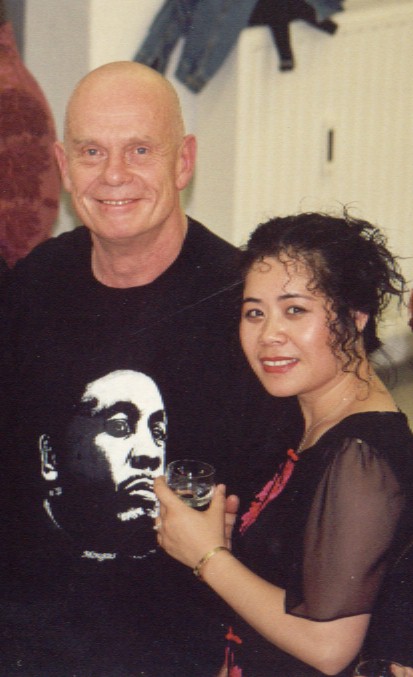 Xu Fengxia and Peter Kowald after a concert in Hagen. Mingus is there also.
Xu Fengxia`s music moved to a completely new direction when she first met with Peter Kowald in 1995. Peter Kowald had been one of the founders of the European Improvised music. His music was respected all over the world. In 1995 he decided to take a break and he stayed home for 365 days. In his hometown Wuppertal, at his own studio also known as the "Ort" (Place) he organized a lot of exciting concerts and sessions during this year. That`s where he first played with Xu Fengxia. After this year, when started to travel around the world again he started to work with Xu Fengxia extensively. They played duets or trios (with violinist Gunda Gottschalk) or with other fine musicians such as Le QuanNinh, Savina Yanatou, Michel Doneda, Otomo Yoshilde and many more. Xu Fengxia says that Peter Kowald influenced her in a way to learn music again, a second time, in a different way.
In 2002 Peter Kowald invited Xu Fengxia to his second home in New York. They played a trio concert with Assif Tsahar (sax) and a duo concert in Boston. The next day when they came back to New York, Peter died all of a sudden. Xu Fengxia will also keep this wonderful man and his wonderful music in mind.
His former studio in Wuppertal is still a place for concerts and exhibitions. Xu Fengxia often plays there and the special spirit of this room always produces great music.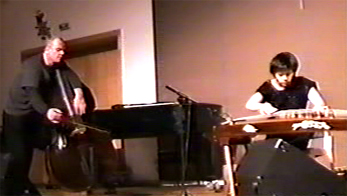 Peter Kowald and Xu Fengxia at Bochum Museum.
Peter Kowald and Xu Fengxia playing a duo in Albi/France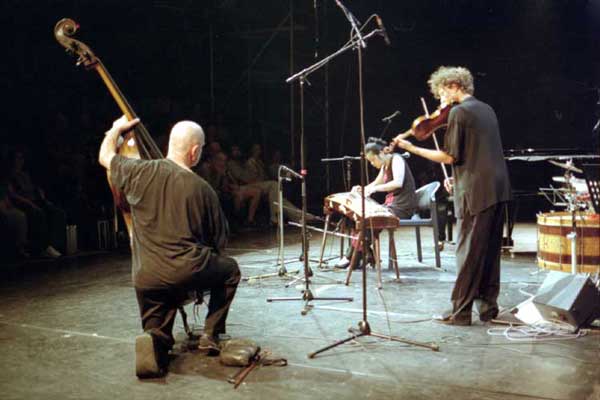 Peter Kowald, Gunda Gottschalk and Xu Fengxia playing in Antwerp.