Eric Panpot before the Victoriaville Fimav Festival 2008:
It recently occurred to me that I'm likely one of the most excited people to see Shanghai-born (and now Germany-based) performer Xu Fengxia return to the FIMAV during the festival's upcoming 25th edition. For the longest time, I wondered how words could accurately describe my experience during her previous visit, on a Sunday afternoon in 2005, seated in the dark, in the small confines of the local Cégep in Victoriaville. By chance, it became my favorite musical moment that year. Something inexplicable happened to me, some kind of prolonged sensory energy, similar to that brief moment between an emotional reaction and tears, only extended beyond its normal range. Coincidentally, there were very few distractions, with all eyes on the marvelous performer- a small, shy person- seated before her 21 string instrument made of the wood of an Asian type of plane tree which can be played in any scale or key due to its flexible bridge positions. Evidently, there is also a lot of mystery surrounding that little-known instrument in North America, the guzheng, which dates as far back as 700 BC. Xu Fengxia was a woman of limited words, occasionally smiling and bowing at the overwhelming applause, but also musically borderless as she re-adapted, manipulated and improvised her way through hundreds of years of classical Chinese compositions. At various other striking moments, she utilized her voice in unconventional ways to fully externalize her soul, combining Beijing-styled opera adaptations with gutsy throat singing. I was with her, in a beautiful place that afternoon. When she wasn't exploring with her violin bow, or extracting percussive sounds with her hands, her fierce physical plucking left small visible particles from the strings floating around her in the spotlight. At the conclusion, still in a daze, I walked out the front door, down the concrete steps, speechless, a little blind from the sunlight, but fully aware that I'd just experienced a rare sensation of magical proportions. To be fair, Xu Fengxia didn't come out of a dark hole in the forest. She's performed the world over, with German bass player Peter Kowald (in his band Global Village), with Roman saxophone maestro Mario Schiano, exuberant bassist Joe Fonda and others- and recognized not only for her prowess on the guzheng, but also as a thrilling performer on the three-stringed sanxian. You know what to do when she comes back to our neck of the woods.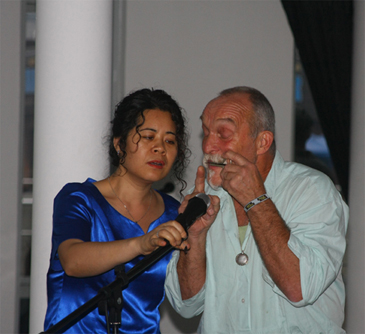 Xu Fengxia und Baby Sommer bei einem Konzert in Shanghai 2008.
David Fujino after Xu Fengxia`s concert at the Goethe Institute Toronto:
Xu Fengxia is a world musician, and a masterful player of the 21-string harp, the guzheng. She plays her heart out; and when she played "Plum Blossom", she gathered us into an empty space of sound where taut and brittle notes are suddenly a swept waterfall of notes; where her left hand bends the ulullating sway of strings, our heartstrings. Silence. Her voice sounds and throbs with pauses, as she breathes out the melody line in a horizontal tremulous ache; and her right hand strums a steady tempo. Heads bob at the jazz chords and swinging rhythm, harmonics are sprinkled throughout, and the finger dampened strums make the body sway. There's deep centuries of sound in the low chordal notes. And there's optimism in her arpeggios, and a delightful free sense of rhythm. Xu Fengxia is a world musician, and a bold and committed improvisor. Too bad if you weren't here to hear her second piece, an improvised piece with a strong jazz flavour, but more than a jazz flavour, as we hear her voice scatting and syncopating notes, lifting from level to level, sighing - and swinging - over a storm cloud of chord strums; and when she bowed on alternating sides of the bridges of her guzheng, we had a body memory of that eery high-pitched loop, that high squealing we hear darkly in European art music. Xu Fengxia is a world musician, and her willingness to collaborate became a special gift on this night. Instead of playing an encore, she improvised a guzheng duet with Toronto musician David Sait who had asked her on the Internet if he could duet with her in Toronto. Sait plucked gentle arpeggios and off rhythms while Xu Fengxia bowed furiously. (I think she broke a string during this piece.) Sait was then found to be playing with soft mallets as Xu Fengxia let her voice cackle, sliding her pitch up and down and again evoking European avant garde sounds. Her closed eyes, her poised body, both hands ready to strike, and her voice, another line and texture, are vital energies in her spacious world of sound. Ever since 1945, Peter Kowald says he was never at ease and was unhappy with Germany and its history. So he became a musician who started to travel the world. He met Xu Fengxia in Germany, her present home base. Xu Fengxia, like Peter Kowald, is a brave spirit who walks towards us with her music. Thank you, Xu Fengxia, for your borderless songs. And thank you, Peter Kowald for your inspiring example.